Unlock the Perfection of Tailored Accessories in Portsmouth, NH
Do you constantly want to stay up to date with the latest trends in jewelry? From the perfect shade of gold to the most luxurious pearls, the details of your jewelry speak volumes about your style and confidence. 
At Portsmouth Jewelers, we understand the importance of self-expression through jewelry. We're here to guide you in making your statement piece. Our custom jewelry services allow you to design and create a one-of-a-kind piece that captures your unique taste and personality. Let us help you make a statement with jewelry that truly speaks for itself.
Show the World Your Sense of Fashion
Keeping up to date with jewelry trends is not just a way to stay stylish; it can also benefit you. When you wear the latest designs, you'll feel confident and up-to-date, which can positively impact your mood and self-esteem.
With our many years of experience helping Portsmouth residents find the perfect jewelry to fit their style, our jewelers in Portsmouth, NH, are confident that you'll be able to create something special at our store.
Wear Your Own Unique Statement
Are you looking for a spark of creativity? Let us be your guide! From the material to the design, our jewelry designers will work with you every step to ensure you get precisely what you want. Here are some ideas for 2023:
Arm Cuffs

: Make a statement with an arm cuff securely fastened to your wrist, giving you the perfect accessory for any outfit.

Chandelier Earrings

: Do you want a luxurious look that speaks sophistication? Chandelier earrings are the perfect way to show off your sense of style.

Thick Chains

: Well, you can never go wrong with a classic. Thick chains are timeless accessories that will never fail to make an impact. Create a unique piece with your style.

Cocktail Rings

: Spice up your outfit with a touch of drama. Make a bold statement with an elaborate cocktail ring that will turn heads.
Design Your Custom Piece in Just 3 Easy Steps
Ready to get started? Here are the three steps to begin creating your custom jewelry with Portsmouth Jewelers:
Kickstart the process by completing our form and providing us with your contact information.

Then, let's schedule a visit to our jewelry store in Portsmouth, NH, so we can discuss the design you have in mind. Have fun playing with the colors, materials, and stones we have for you!

Now, it's time to start embracing the joy of wearing your unique jewelry!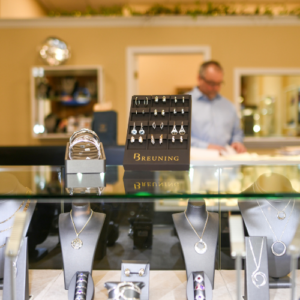 Stay Ahead of the Curve With Portsmouth Jewelers
Are you tired of seeing someone else wearing the same necklace or earrings as you? Do you want to stand out and express your individuality through accessories? Look no further than Portsmouth Jewelers in Portsmouth, NH.
We understand the frustration of finding unique pieces, so we offer services to help you create your own. Life is meant to be enjoyable, and making jewelry can add fun to your routine. Let us guide you and help you craft the perfect accessory to complement your style.
Subscribe To Our Newsletter
Keep up to date on our newest designers and receive special discounts