Jewelry Services in Portsmouth, NH At
Best Jewelry Store In Portsmouth, NH
Portsmouth Jewelers is your full-service jewelry store focused on quality & customer service. Our jewelry designers offer bridal, custom designing, jewelry repairs, custom engagement rings & a large variety of Designer Jewelry in our shop. We also perform watch and clock repairs and services, on-site engraving, updated jewelry appraisals & more. FREE parking & TAX-FREE in Portsmouth, New Hampshire. Trust our custom jewelry services!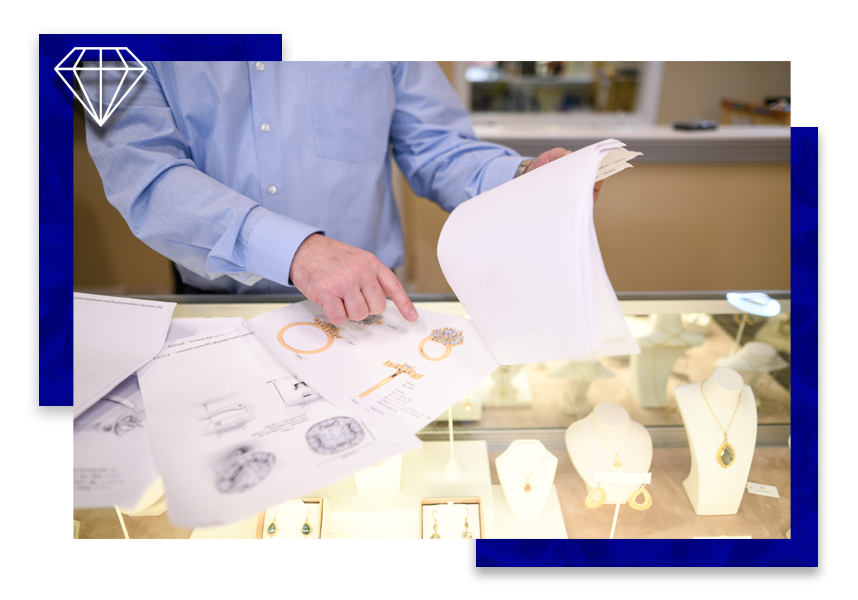 You Dream It, We Create It!
DESIGN THE PIECE OF YOUR DREAMS
If you are looking for a unique one-of-a-kind piece, consider our custom jewelry design service. Working with clients on creating a beautiful and meaningful piece of jewelry is our favorite project as it allows us to work with you to craft exactly what you are looking for. With our custom jewelry, you'll have a piece that fits your needs!
Derek Duckworth
2023-03-28
Portsmouth jewelers was awesome to work with to create the perfect engagement ring for my fiancé. She absolutely loves it! Leo was great to work with and answered any questions I had. He made sure to create the exact ring I wanted. Top notch local business and would recommend to anyone.
They are the best here! Kind, patient, and friendly. They helped me through the purchase of a special one of a kind gift! Would highly recommend!
Christine O'Neill
2023-03-02
I walked into Portsmouth Jewelers without an appointment. I explained to Lisa that my husband had passed away and I wanted something special made from our wedding bands, engagement ring and anniversary ring. I had something in mind and she worked with me on it, it was going to be challenging, but she was determined to assist me. We went through my idea and she drew some of it out. While she was doing this, I was playing with the two wedding bands-my band fit into my husband's . Suddenly, Lisa's eyes lit up! She came up with a totally different idea than what we working on and I loved it, I cried (really cried). Leo came over and gave me a bottle of water and then we went over the idea with him; he made a few simple suggestions. I just picked it up and it is PERFECT! I cried again and Leo gave me more water😊 I walked into this shop , no appointment, and was assisted immediately and shown such kindness. I walked out of the shop and was so happy and grateful for all of Lisa and Leo's kindness. My pendant is perfect! I highly recommend Portsmouth Jewelers to anyone , I felt like part of a family and I was only in there twice! It's a special place!
I recently used Portsmouth Jewelers for a project creating a couple pieces of jewelry from a family necklace. I could not be more pleased with the results and the overall experience working with Lisa and Leo. They provide fantastic customer service in a warm, welcoming environment. Highly recommend!
Portsmouth Jewelers went above and beyond to help me create the perfect engagement ring. They found a unique and uncommon diamond when other jewelers declined to look. Incredibly nice and easy to communicate with, I would 100% recommend and look forward to doing future business here!
Outstanding service, very reasonable prices, great selection, and wonderful attention to detail. This is my new go to jewelry store. Thank you for taking such great care of me.
I have to say this was one of the most pleasant business experiences I've ever had. Super friendly, I came in with something that turned out to be a 60 second fix and they just fixed it and gave it right back. I would go out of my way to come back here!
Arockia Suthan Nallapparaj
2022-06-13
Very friendly owners, I was able to get my watch adjusted pretty quickly.
The proprietors are lovely and helpful. They have some really beautiful but unique pieces. A pleasantly surprising experience for a small local jeweler.
Catherine Oswecki
2022-02-11
Incredible service! Go here first. The team patiently answered all of my questions, and repaired a number of pieces. Also, the wide selection of items in-store is impressive. I found the perfect, handmade piece for a friend's birthday. Will definitely return.
Lately On The Gram
Subscribe To Our Newsletter
Keep up to date on our newest designers and receive special discounts