DESIGN THE PIECE OF YOUR DREAMS
Finding the right piece of jewelry can be a challenge. It has to be a perfect style, fit, and color. But what if you can't find what you're looking for in stores? That's when you should acquire a piece of custom jewelry. There are many reasons to choose a custom piece of jewelry, but no matter what your reasons are, have our staff at Portsmouth Jewelers make you the perfect piece.
Stop looking for "jewelers near me" at Portsmouth, NH, we're the best jewelers because we have many styles, metals, and gemstones to choose from. We can design and create any custom jewelry you can imagine, whether it's an engagement ring, a necklace, or a pair of earrings.
Pieces Of Jewel We Make
Earrings
If you're the kind who likes to stand out from the crowd, then custom earrings are great. Whether you want a pair of dangle earrings, studs, or something in between, we can design and create the perfect pair of earrings for you. If you already have something in mind, our custom jewelry makers can make it a reality.
Necklaces
You have a beautiful neck, so why not show it off with a custom necklace? We can design and create any type of necklace you want, whether it's a simple chain with a pendant or an elaborate piece with multiple strands and gemstones.
Rings
If you want to add elegance and personality to your look, then a custom ring is the way to go. As the best jewelers in Portsmouth, NH, we have vast experience in designing and creating custom rings. We share your passion for rings, so we'll stay close to you throughout the design process to make sure your ring is everything you've ever wanted.
Engagement Rings
Did you search for "jewelry designer near me" because the big day is approaching and you want to make it extra special? Then you've come to the right place! We understand that your engagement ring has to be as unique as your love.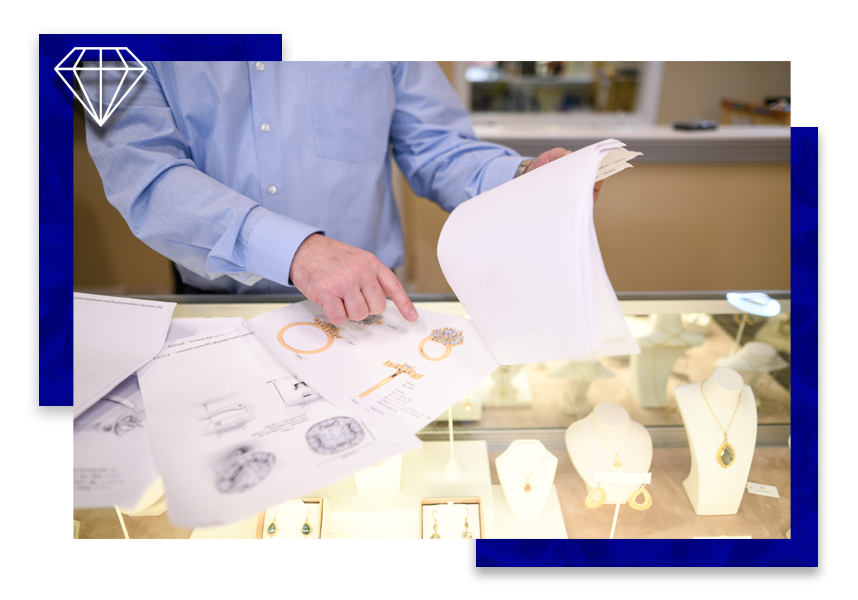 Stop Searching For Jewelry Designer Services, We Have It!
DESIGN THE PIECE OF YOUR DREAMS
At Portsmouth Jewelers, we're passionate about the good moments in life and want to help you improve them. We offer custom jewelry design services to turn your vision into reality. Stop looking for "jewelry appraisal near me" and come visit us; you won't regret it.
Watch Repair, Watch Batteries & Band Adjustments
Jewelry Repair
Ring Resizing, Re-mounting & Re-styling
Jewelry Appraisals
Jewelry Insurance
Jewelry Cleaning, Polishing & Inspection
Custom Engravings
Pearl & Bead Restringing
14k Gold, Sterling Silver & Fashion Jewelry
Diamonds, Gemstones & Pearls
Engagement Rings, Wedding Bands & Mother's Rings
Bridal Jewelry, Baby Jewelry, Graduation Gifts, Anniversary Gifts & More!
Watch Repair & Battery Replacement
Whether its band resizing, replacements, or watch battery replacements we do it all!
Along with watch repair & battery replacements, we also repair clocks. We will try to service any type of clock but you may have to bring it by so we can take a look. Estimates are always Free!
Subscribe To Our Newsletter
Keep up to date on our newest designers and receive special discounts