Preserving Precious Memories: Create Custom Jewelry With Portsmouth Jewelers This Fall
As the autumn breeze carries whispers of cherished memories and emotions, there's no better time to celebrate life's special moments with new jewelry. But it's often difficult to find the perfect piece for yourself and your loved ones, which can make you feel frustrated. Everyone deserves to have something as unique and meaningful as they are.
At Portsmouth Jewelers, we comprehend these sentiments and offer custom jewelry services catering to your needs. Our passionate, knowledgeable jewelers in Portsmouth, NH, are committed to delivering outstanding results and unmatched customer service. Whether you're looking for a one-of-a-kind engagement ring, personalized necklace, or matching wedding band set, we can help.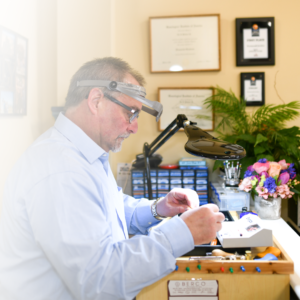 Unveil The Magic Of Custom Jewelry
For discerning individuals seeking jewelry that is more than just adornment but a reflection of their soul, custom jewelry is the ultimate choice. We're honored to guide you on a journey of design and emotion, where we craft personalized pieces that symbolize your most cherished memories, milestones, and special occasions. Our team understands the significance of these treasures, and we take great pride in infusing each design with love and thoughtfulness.
A Symphony Of Craftsmanship And Attention To Detail
At Portsmouth Jewelers, we firmly believe custom jewelry should be a masterpiece that stands the test of time. Our skilled artisans possess the artistry and expertise to craft each piece with the utmost care. From selecting the finest materials to implementing intricate details, we ensure that every aspect of your custom jewelry aligns perfectly with your vision.
Testimonial Of A Sentimental Masterpiece
"Portsmouth Jewelers went above and beyond to help me create the perfect engagement ring. They found a unique and uncommon diamond when other jewelers declined to look. Incredibly nice and easy to communicate with, I would 100% recommend and look forward to doing future business here!" — Colin C.
portsmouth jewelers: your trusted store in portsmouth, nh
When you entrust us with creating your custom jewelry, you prevent settling for mass-produced pieces that lack the personal touch. Embrace the magic of fall and the beauty of personalized jewelry by following our 3-step plan:
Contact us by filling out our online form.

Discuss your needs and preferences with an expert

custom jeweler

.

Let us create a stunning masterpiece that speaks to your heart.
Subscribe To Our Newsletter
Keep up to date on our newest designers and receive special discounts