Restoring Your Timepieces: Watch Repair Services For The Holidays
As the holiday season approaches, we dust off the decor, the winter clothes, and we might run into a cherished timepiece that needs repair. What a better way to complement your holiday outfits with that signature timepiece? You deserve to enjoy yourself with a functional and stylish accessory. 
At Portsmouth Jewelers, we understand the emotional significance of your timepieces. We empathize with the distress caused by a broken watch, especially during the holiday season. That's why we're here to restore your watches to their prime, ensuring they tick accurately throughout your holiday celebrations.
Restoring Reliability With Expert Repairs
Our jewelry store in Portsmouth, NH, offers a comprehensive range of watch repair services designed to ensure the reliability and aesthetics of your timepieces. From replacing batteries to fixing complex mechanical issues, we handle each task with precision and care.
We cater to various timepieces, including wristwatches, pocket watches, and treasured heirloom pieces. Whether it's a modern quartz watch or an antique wind-up, our skilled jewelers have the knowledge and experience to restore its functionality.
A Time-Tested Process For Timepiece Restoration
At our reputable watch repair shop, your timepiece is in expert hands. 
Our watch repair process begins with a thorough diagnostic to identify any issues. 

Next, our proficient technicians make necessary repairs using high-quality parts and advanced tools. 

Lastly, every repaired watch undergoes rigorous quality assurance testing to ensure it's functioning correctly.
To get your watch back in tip-top shape with Portsmouth Jewelers, follow these simple steps:
Bring your watch to our store for an estimate.

Let our expert jewelers work their magic.

Pick up your restored timepiece, ready to tick away this winter.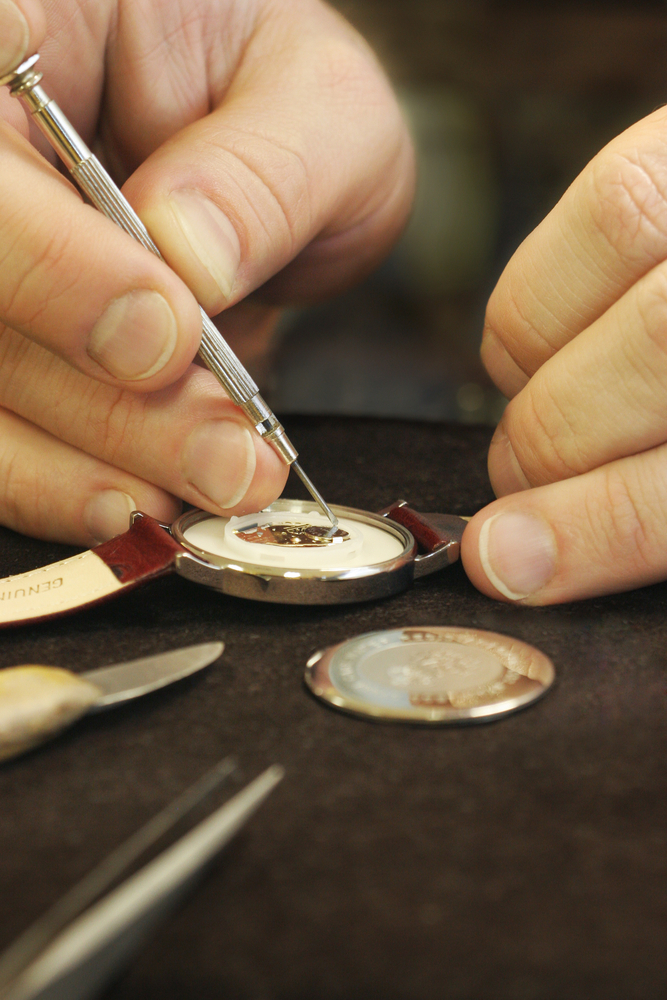 Don't Let Time Stand Still This Holiday Season
As the yuletide approaches, it's crucial to ensure that your timepieces are in prime condition. Ignoring necessary repairs can lead to bigger problems, potentially rendering your favorite timepiece unusable. Choosing Portsmouth Jewelers for your watch repair needs means investing in reliability and peace of mind. 
With our expert service, your watch won't just tell time—it will tell a story of tradition, care, and attention to detail. So, visit our jewelry store in Portsmouth, NH, today, and let us help you make every second of this holiday season count!
Subscribe To Our Newsletter
Keep up to date on our newest designers and receive special discounts