Time To Shine: Get Your Jewelry Ready For Fall With Portsmouth Jewelers' Expert Repair Services!
There's something enchanting about the autumn season that awakens our desire for captivating jewelry. However, some of your favorite pieces may have lost their shine over time or suffered minor damage. It's only natural to feel disappointed – but getting your collection back in peak condition shouldn't be a cause for worry.

At Portsmouth Jewelers, we understand how much your jewelry means to you. That's why we offer superior repair services so you can keep those precious memories alive. Our caring jewelers in Portsmouth, NH, know precisely how to bring out the best in every piece.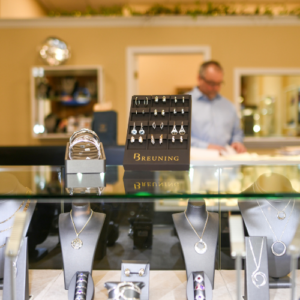 Revitalize Your Jewelry Collection For Fall
As we bid farewell to summer and embrace the cozy days of fall, it's the perfect time to refresh and revitalize your jewelry collection. Expert jewelry repairs are the answer to restoring the elegance and splendor of your treasured accessories, making them the perfect complement to your autumn outfits.
Rely On Our Custom Jewelry Services
We take pride in our team of custom jewelers, each with a passion for their craft and years of experience handling various jewelry repair types. From resizing rings to restringing pearls, we've seen it all and know how to bring your beloved pieces back to life. Our attention to detail and dedication to quality ensures that your jewelry is treated with the utmost care and precision.
Testimonials From Satisfied Customers
"I have to say this was one of the most pleasant business experiences ever. Super friendly, I came in with something that turned out to be a 60-second fix, and they just fixed it and gave it right back. I'd go out of my way to return here!" — Nick S.

"Absolutely recommended! They're so nice and knowledgeable. I brought my mom's nameplate necklace to be fixed, I got it online, and it broke within two days. The new chain the owner put on it was perfect and sturdy." — Carly G.
looking for a reliable jewelry store in Portsmouth, nh? contact us today!
Avoid the disappointment of dull or damaged jewelry this fall by choosing Portsmouth Jewelers for all your repair needs. Rest assured that your accessories will stand out with renewed brilliance! Here's all you need to do to get started:
Contact us by filling out our online form.

Discuss your needs and repair options with a member of our team.

Let us take over and enjoy your restored jewelry in no time.
Subscribe To Our Newsletter
Keep up to date on our newest designers and receive special discounts