Timeless Elegance: Preserve Your Timepieces With Watch Repair This Summer At Portsmouth Jewelers
In the world of horology, luxury watches are more than just accessories; they embody timeless elegance and impeccable craftsmanship. These exquisite creations represent an investment and hold sentimental value, becoming an integral part of one's style and identity. However, due to their delicate nature, timepieces may experience damage over the years, which can be very stressful for proud owners.
At Portsmouth Jewelers, we realize how much your watch means to you. We're a reputable jewelry store in Portsmouth, NH, offering first-class repair services to help you maintain the integrity of your beloved timepiece. As you embrace the warmth of summer, why not bring your watch in for a checkup?
Comprehensive Watch Repair Services
Battery Replacements:

Even the most exquisite watches lose their charm when the battery runs dry. Portsmouth Jewelers excels at swift and precise battery replacements, safeguarding your watch's accurate timekeeping.

Intricate Mechanical Repairs:

Our skilled

jewelers in Portsmouth, NH

, possess the finesse and expertise to handle intricate mechanical repairs. From movement adjustments to gear replacements, we ensure your timepiece functions flawlessly.

Exterior Polishing:

The allure of a luxury watch lies not only in its mechanics but also in its aesthetics. We employ meticulous polishing techniques to restore the original sparkle of your watch's exterior, reviving its luster.
Expertise That Transcends Brands
Every luxury watch brand demands distinct care. Our experienced technicians are familiar with the nuances of servicing high-end timepieces from renowned brands. Their precision guarantees that your watch receives tailored attention, regardless of origin.
Embrace Summer Adventures With Confidence
As the days grow longer and outdoor activities beckon, your luxury watch should be ready to accompany you on your summer escapades. Proper watch repair will allow your timepiece to function flawlessly, even during active endeavors. From regal evening events to casual beach trips, you can trust Portsmouth Jewelers to keep your watch in optimal condition.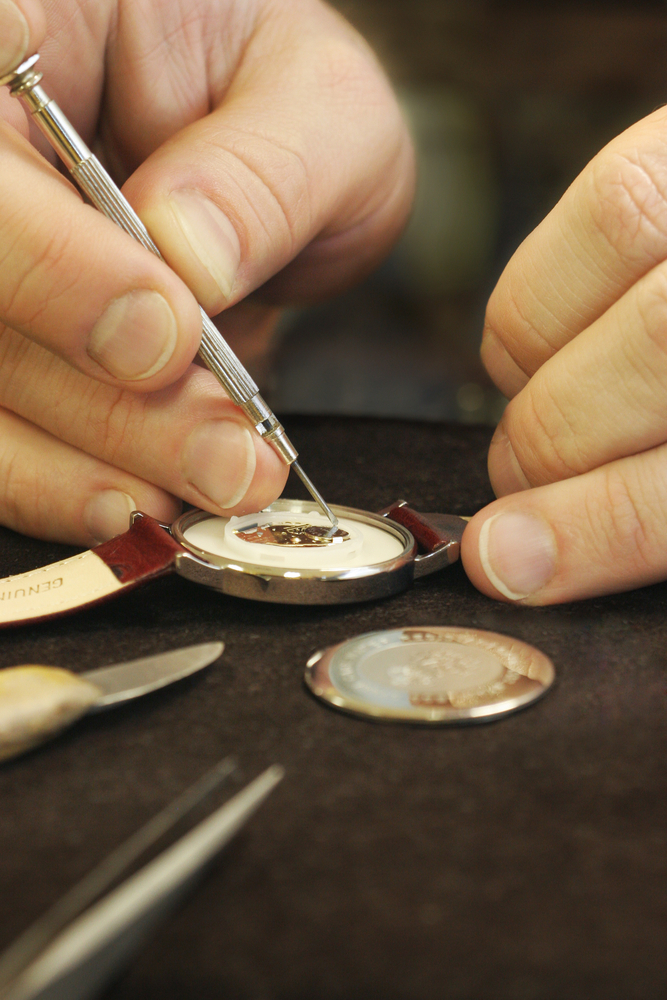 Contact Us For Superior Watch Repairs And Custom Jewelry Services
Avoid the disappointment of a malfunctioning timepiece. Contact Portsmouth Jewelers today and experience the reliability, expertise, and impeccable service that has made us a trusted name in luxury watch repair in Portsmouth, NH. Here's all you need to do to get started:
1. Contact us by filling out our online form.
2. Discuss your needs and repair options with one of our custom jewelers.
3. Let us take over and enjoy your restored watch in no time.
Subscribe To Our Newsletter
Keep up to date on our newest designers and receive special discounts