Make an Impression This Summer With Your One-of-a-Kind Jewelry Design
Summer's getting closer! It's time to bring out your best outfits and show off your style. From parties to brunches, there's always a reason to look amazing. However, you may be short on accessories to complement your desired appearance. That can end up making you feel underdressed. 
Getting the right pieces that match your vision shouldn't be unreachable. At Portsmouth Jewelers, we understand a stunning piece's impact on your mood. Therefore, we'll help you create a unique piece that showcases who you are and complements every outfit in your wardrobe. 
With 35+ years of experience serving the Portsmouth community, we can provide you with what it takes to help you shine.
Make It Special, Make It Yours
Mass-produced accessories often fail to capture their wearer's unique style and personality. So, creating a custom piece of jewelry is an ideal way to overcome that situation! Don't settle for generic accessories when you can have a one-of-a-kind piece that reflects your individuality.
Let our jewelers in Portsmouth, NH, help you get the perfect fit, color, shape, and material for a truly unique piece! Here are some ideas for this season:
Stacking Rings

: It's time to stand out! Create your own set of rings uniquely linked to each other without complications. Our custom jewelers can assist you in finding suitable stones, sizes, and metals to match your style.

Custom Bracelets

: Create something special for yourself and get inspired with your design. Your wrist will look classy!

Lightweight Earring

: Why settle for ordinary earrings when you can have something light and unique? With our custom jewelry service, you can design a piece that reflects your personality and doesn't make you uncomfortable throughout the day.
Shine Bright Like the Sun in 3 Steps!
Personalized attention, attention to detail, and experience in the field will help you get the most out of your custom jewelry design. Our three-step process ensures that we pay attention to every detail, from concept to finished product.
Contact us

by filling out our contact form online or calling 508-444-9759. We're always ready to hear from you!

Discuss your vision

, ideas, and expectations for your custom piece. Bring photos and sketches of your picture to help us create your unique design. We'll work with you to ensure the perfect fit, metal, stone size, and more.

Get ready to turn heads

with your new piece! We'll take care of the rest. All that's left is for you to pick up your order and be ready to make an impression this summer season.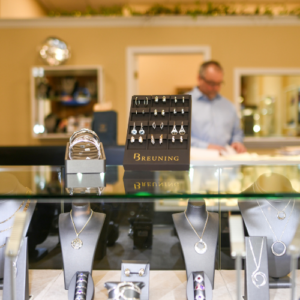 Ride the Wave of Fashion With Portsmouth Jewelers
Summer is the ideal time to shine and be the best version of yourself. And what better way to do it than with a stunning piece of custom-made jewelry? We want to become the trusted jewelry store in Portsmouth, NH. You can rely on us to help you bring your dream jewelry to life. Avoid buying expensive and low-quality jewelry. Instead, invest in top-notch pieces that will have everyone complimenting you!
Don't let anything stop you from looking and feeling fabulous this summer. Portsmouth Jewelers will help you create a one-of-a-kind jewelry piece and experience a smooth crafting process. Contact us for more information!
Subscribe To Our Newsletter
Keep up to date on our newest designers and receive special discounts